Welcome to the Spoil Your Family Summer Giveaway Event being hosted by Annette from Annette Funnyjello and myself. Today's sponsors provide are sure to spoil the winners' kitchens. Our first sponsor of the day is Sodastream. Be sure to visit Annette's blog for a second chance to win this COMBINED giveaway.
I don't know about you but my family spends tons of money on soda in a, average month. I blame it on the fiancé since he's ALWAYS drinking coke. We also usually have company who are soda drinkers. There's no avoiding somebody wanting soda in our household on a daily basis, sad to say.
"Making carbonated water and soft drinks is simple! Turn tap water into sparkling water in under 30 seconds, with no clean-up. Enjoy the freshness and convenience of homemade soda and protect the environment at the same time. No heavy bottles to carry, store at home or throw away. Fizz to your taste and add the flavor of your choice to make your favorite drink. Simple to clean and reuse. With a variety of colors and silhouettes, you'll be sure to find a soda maker to match with any decor."
The Sodastream Fountain Jet is saving us plenty of money and keeping us from heading to the store so often. This product turns water to soda in a matter of seconds. It's like magic. Watch the video below to see just how simple using this machine is.
We love this product in our house. Our only complaint is the soda syrups. They are sweetened with Splenda which we are not a fan of. It's possible we're just not using the right amount of syrup and that is why it tastes different to us. Our friend Colin really loved the sodas we made with the Sodastream Jet, so I think it's just us. We tried many different flavors. My favorite was Root Beer and Ben's favorite was Energy. In the end, we decided some flavors were worth purchasing again but we may want to buy others from another brand.
Giveaway: One reader will receive a Fountain Jet Soda Lover's Start-up kit (approx. $100 retail value.) It includes the winner's choice of black/silver, white or red/silver Fountain Jet, CO2 to make over 100 liters of soda, 2 reusable carbonating bottles, a sample pack of flavors, and 3 full sized flavors of the winner's choice.
Required Entry: Tell me which flavor you would most like to try from the Sodastream website.
For extra entries you can do any or ALL of the following:
* Follow my blog through Google Friend Connect (sidebar).
* Subscribe to my feed via e-mail or RSS.
* Follow @lelandsmama on Twitter.
* Follow @SodaStreamUSA on Twitter.
* Tweet about this giveaway using the retweet button at the top of this post (or if you're feeling creative, use your own tweet). This can be done once daily.
* Grab my button and place it on your sidebar or blog roll. Leave me a link to the location of the button in the comments section of this post.
* Grab the Spoil Your Family Summer Event button and place it on your sidebar or blog roll. Leave me a link to the location of the button in the comments section of this post. (Remember it's 5 entries, which means 5 comments if you had the button before July 1st!)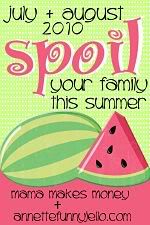 * Leave a comment on a non-giveaway post and leave a comment below telling me where you commented. This can be any post written in the past month and can be done as many times on separate posts as you would like for extra entries. Make sure the comment you leave is legitimate, at least 3 words.
* Blog about this giveaway = 5 Entries (Please leave 5 comments). Link back to this post and Sodastream. (Make sure you leave me a link to your blog entry. Blog post must be at least 100 words and NOT be copied and pasted from my blog.)
* Double your chances in this combined giveaway by entering the Sodastream giveaway at Annette Funnyjello. *Please note that there is only one prize to be given away between our two blogs. Entering on both blogs only doubles your chances.
* "Like" Mama Makes Money on Facebook.
* "Like" SodaStream on Facebook.
* Follow Mama Makes Money on Networked Blogs.
* Add this giveaway to a Mister Linky, Contest Site, Forum, Facebook, Myspace, Stumble, Digg, etc. (unlimited entries).
This giveaway will end on Friday August 27, 2010 at 11:59 PM CST and is open to residents of the USA. I will choose the winner via random.org and announce and e-mail the winner some time on August 28, 2010.
Disclosure: SodaStreamUSA provided me with product(s) to review for this post. They are also providing the prize to the winner of this giveaway. All opinions expressed about the company are 100% mine.