NOTE: There is only one prize to be given away between Annette and myself for this sponsor. Entering on both blogs doubles your chances to win the ONE prize being offered.
Welcome to day 22 of the Spoil Your Family Summer Giveaway Event being hosted by Annette from Annette Funnyjello and myself. Today's sponsors are all about fun in the sun. Our first sponsor is the Shred Sled. Be sure to stop by Annette's blog to double your chances of winning this JOINT giveaway. Also, make sure you read her review, since her kids were actually able to try out this super cool product!
With Shred Sled's® new dual deck caster board you can easily start Shredding in no time! It consists of two boards, coupled with a flexible connector, which allows both boards to rotate around the vertical and horizontal axes. This 4-wheel, dual-deck concave board makes it smoother and easier to start carving up the streets. It's fun and much easier to control than older 2-wheel generation boards. It's also great for strengthening the legs and waist muscles. The SHRED SLED® is a fun way to exercise and gives you a feeling of carving like snowboarding and skateboarding. It's easy to kick off and start getting speed. Its 4 wheels make it a much smoother ride. Plus, it's much more durable because the decks are made of almost indestructible ABS material and the wheels last a long time. The decks have a great grip surface to allow for better control and traction.
Giveaway: One winner will receive a Shred Sled of their own ($79.99).
Required Entry: Tell me something you learned from the Shred Sled website or simply tell me why you would like to own a Shred Sled.
For extra entries you can do any or ALL of the following:
* Follow my blog through Google Friend Connect (sidebar).
* Subscribe to my feed via e-mail or RSS.
* Follow @lelandsmama on Twitter.
* Follow @theshredsled on Twitter.
* Tweet about this giveaway using the retweet button at the top of this post (or if you're feeling creative, use your own tweet). This can be done once daily.
* Grab my button and place it on your sidebar or blog roll. Leave me a link to the location of the button in the comments section of this post.
* Grab the Spoil Your Family Summer Event button and place it on your sidebar or blog roll. Leave me a link to the location of the button in the comments section of this post. (Remember it's 5 entries, which means 5 comments if you had the button before July 1st!)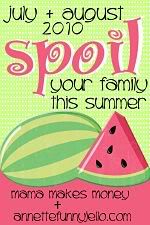 * Leave a comment on a non-giveaway post and leave a comment below telling me where you commented. This can be any post written in the past month and can be done as many times on separate posts as you would like for extra entries. Make sure the comment you leave is legitimate, at least 3 words.
* Blog about this giveaway = 5 Entries (Please leave 5 comments). Link back to this post and Shred Sled. (Make sure you leave me a link to your blog entry. Blog post must be at least 100 words and NOT be copied and pasted from my blog.)
* Double your chances on this giveaway by entering at Annette Funnyjello.
* "Like" Mama Makes Money on Facebook.
* "Like" The Shred Sled on Facebook.
* Follow Mama Makes Money on Networked Blogs.
* Add this giveaway to a Mister Linky, Contest Site, Forum, Facebook, Myspace, Stumble, Digg, etc. (unlimited entries).
This giveaway will end on Thursday August 12, 2010 at 11:59 PM CST and is open to residents of the USA. Annette and I will choose the winner via random.org and announce and e-mail the winner some time on August 13, 2010.
Disclosure: The Shred Sled did NOT provide me with product(s) to review for this post. They are, however providing the prize to the winner of this combined giveaway. All opinions expressed about the company are 100% mine.