Welcome to the Spoil Your Family Summer Giveaway Event being hosted by Annette from Annette Funnyjello and myself. Today's sponsors are all about spoiling our pets. Our first sponsor is ScoopFree. Be sure to visit Annette's blog for a second chance to win the same prize being offered here.
Now that you've read Annette's review on the ScoopFree Ultra Self-Cleaning Litter Box. Oh, you haven't yet? Check it out here.
Ok…now that we've got that out of the way, let me tell you how this product worked for our family. Let me start by saying that we have two cats, Zoe and Jasmine and they are both indoor cats and both use the litter box many times throughout the day. Let me just say that this litter box is perfect for our fur babies.
ScoopFree® is the self-cleaning litter box you can leave alone for weeks at a time. It is the only self-cleaning litter box that uses disposable litter trays to provide hands-off convenience and unbeatable odor control.

ScoopFree Ultra offers 3 additional features for the ultimate in cat care: A privacy hood, an adjustable rake delay, and a health counter.
Watch the video below for a better idea of how this amazing litter box works. It's super cool. I love technology these days!
While the prices for trays seems expensive, you're actually saving money because you don't need to change the litter box as often. We can go up to 15 days without changing the litter box tray. If you only have one cat (especially an indoor/outdoor cat like Annette), you could save unimaginable amounts of money by switching. It may seem like a lot of money to invest up front…but for us it's been worth it.
My favorite features of this litter box is for one, the privacy hood. My girls don't have to show us their business while their doing theirs. It's a considerate addition. I also love the smell of the tray refills, very fresh. And of course, being able to choose how long the system rakes the litter box after the girls go to the bathroom is also a big plus for us!
Giveaway: One reader will win their own ScoopFree Ultra Self-Cleaning Litter Box (ARV $179.95).
Required Entry: Tell me something you learned from the ScoopFree website.
For extra entries you can do any or ALL of the following:
* Follow my blog through Google Friend Connect (sidebar).
* Subscribe to my feed via e-mail or RSS.
* Follow @lelandsmama on Twitter.
* Follow @scoopfree on Twitter.
* Tweet about this giveaway using the retweet button at the top of this post (or if you're feeling creative, use your own tweet). This can be done once daily.
* Grab my button and place it on your sidebar or blog roll. Leave me a link to the location of the button in the comments section of this post.
* Grab the Spoil Your Family Summer Event button and place it on your sidebar or blog roll. Leave me a link to the location of the button in the comments section of this post. (Remember it's 5 entries, which means 5 comments if you had the button before July 1st!)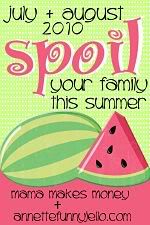 * Leave a comment on a non-giveaway post and leave a comment below telling me where you commented. This can be any post written in the past month and can be done as many times on separate posts as you would like for extra entries. Make sure the comment you leave is legitimate, at least 3 words.
* Blog about this giveaway = 5 Entries (Please leave 5 comments). Link back to this post and ScoopFree. (Make sure you leave me a link to your blog entry. Blog post must be at least 100 words and NOT be copied and pasted from my blog.)
* Enter the ScoopFree giveaway at Annette Funnyjello.
* "Like" Mama Makes Money on Facebook.
* "Like" ScoopFree on Facebook.
* Follow Mama Makes Money on Networked Blogs.
* Add this giveaway to a Mister Linky, Contest Site, Forum, Facebook, Myspace, Stumble, Digg, etc. (unlimited entries).
This giveaway will end on Thursday September 23, 2010 at 11:59 PM CST and is open to residents of the USA. I will choose the winner via random.org and announce and e-mail the winner some time on September 24, 2010.
Disclosure: ScoopFree provided me with product(s) to review for this post. They are also providing the prize to the winner of this giveaway. All opinions expressed about the company are 100% mine.