Welcome to day 32 of the Spoil Your Family Summer Giveaway Event being hosted by Annette from Annette Funnyjello and myself. Yesterday, we featured companies for a night out with your significant other. Today, we are focusing on two companies that would make for a lovely night in with the family. Our first sponsor is Roku. Be sure to visit Annette's blog for a chance to double your entries in this COMBINED giveaway.
Today is the one year anniversary of my Roku review from my other blog. You can read my first impressions of the Roku HERE. Annette was lucky enough to receive an upgrade of the standard Roku recently called the Roku HD-XR and you can read her review HERE.
One year later and I still love my Roku and use it daily. My son watches his cartoons on it and the fiancé and I keep up with our shows too such as Weeds, The Office, Dexter and so many more. Over the past year Roku has added many new features. We are now able to listen to Pandora and our iTunes library on the device. There are channels where you can access independent films, kung fu classics and drive-in type movies from the 50s and 60s. The choices are becoming endless. I can't wait to see what other channels and features Roku releases in the future.
And even better, iPhone apps have been created for those times when I've lost my Roku remote. Yes…that's right, I have a Roku remote app on my iPhone…and my fiance's iPod Touch. We have a two year old who misplaces our remote all too often.
Here are some reasons I would love to upgrade from a standard Roku to the Roku HD-XR. Well, first of all, I have an HD television and I think the quality of my shows would vastly improve. You can set up surround sound with the HD-XR, but I don't have that option on mine. Last but not least, extended range Wireless-N delivers HD video virtually anywhere in your home. So, suffice it to say I am going to be very jealous of the lucky winner of this giveaway.
Giveaway: One winner from my blog or Annette's blog will win a Roku HD-XR of their own (ARV $129.99). Entering on both blogs will double your entries in this COMBINED giveaway, it will NOT enter you in two separate giveaways.
Required Entry: Tell me something you learned from the Roku website.
For extra entries you can do any or ALL of the following:
* Follow my blog through Google Friend Connect (sidebar).
* Subscribe to my feed via e-mail or RSS.
* Follow @lelandsmama on Twitter.
* Follow @RokuPlayer on Twitter.
* Tweet about this giveaway using the retweet button at the top of this post (or if you're feeling creative, use your own tweet). This can be done once daily.
* Grab my button and place it on your sidebar or blog roll. Leave me a link to the location of the button in the comments section of this post.
* Grab the Spoil Your Family Summer Event button and place it on your sidebar or blog roll. Leave me a link to the location of the button in the comments section of this post. (Remember it's 5 entries, which means 5 comments if you had the button before July 1st!)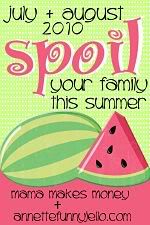 * Leave a comment on a non-giveaway post and leave a comment below telling me where you commented. This can be any post written in the past month and can be done as many times on separate posts as you would like for extra entries. Make sure the comment you leave is legitimate, at least 3 words.
* Blog about this giveaway = 5 Entries (Please leave 5 comments). Link back to this post and Roku. (Make sure you leave me a link to your blog entry. Blog post must be at least 100 words and NOT be copied and pasted from my blog.)
* Double your chances of winning by entering this COMBINED Roku giveaway at Annette Funnyjello.
* "Like" Mama Makes Money on Facebook.
* "Like" Roku on Facebook.
* Follow Mama Makes Money on Networked Blogs.
* Add this giveaway to a Mister Linky, Contest Site, Forum, Facebook, Myspace, Stumble, Digg, etc. (unlimited entries).
This giveaway will end on Sunday August 22, 2010 at 11:59 PM CST and is open to residents of the USA. I will choose the winner via random.org and announce and e-mail the winner some time on August 23, 2010.
Disclosure: Roku did NOT provide me with product(s) to review for this post. They are, however, providing the prize to the winner of this giveaway and did provide me with a product a year ago. All opinions expressed about the company are 100% mine.