Welcome to the Spoil Your Family Summer Giveaway Event being hosted by Annette from Annette Funnyjello and myself. Today's sponsor is Piggy Paint. Be sure to visit Annette's blog for a second chance to win the same prize being offered here.
Now, I personally, have no experience with the Piggy Paint products but I hear great things. You could read about what Annette thought of their products in her giveaway post. Piggy Paint would like us to highlight their new "Project Earth" line for you today.
Piggy Paint is excited to introduce our new TWEEN polish line, "Project Earth" that includes wild, neon colors that will allow us to target an older audience. There are 5 wild, neon colors, and even a glow-in-the-dark polish (Radioactive)! It can be worn by itself, or applied to the top of other colors (as a topcoat, requires 2-3 coats for maximum "glow").
With names like "The Boyfriend Blues" and "Eat Your Peace", tweens are lovin' this eco-friendly, water-based alternative that dries to a hard, durable finish. Piggy Paint Project Earth's odorless formula makes it perfect to use at sleepovers for hours of manis and pedis. There's no need to worry about those harsh, stinky chemicals anymore! Project Earth was launched in conjunction with Piggy Paint's new, updated website April 1. There's even a glow-in-the dark polish called "Radioactive".

We are excited to announce that we have received the Excellence Award from Safbaby.com and now proudly have received their seal of approval as an approved Vendor of Mom approved-child tested products!!

We use 100% reused peanuts from our local community to ship our products! Reduce, reuse, recycle! Let's pamper Mother Earth!
One winner from both blogs will be receiving a $15 Piggy Paint gift card. Also, all readers are encouraged to use this coupon code for 10% off everything on the Piggy Paint website. The code is "FUNNY10L" and it will expire on December 31, 2010.
Giveaway: One lucky reader will win a $15 Piggy Paint gift code.
Required Entry: Tell me one item you like from the Piggy Paint website.
For extra entries you can do any or ALL of the following:
* Follow my blog through Google Friend Connect (sidebar).
* Subscribe to my feed via e-mail or RSS.
* Follow @lelandsmama on Twitter.
* Follow @piggypaint on Twitter.
* Tweet about this giveaway using the retweet button at the top of this post (or if you're feeling creative, use your own tweet). This can be done once daily.
* Grab my button and place it on your sidebar or blog roll. Leave me a link to the location of the button in the comments section of this post.
* Grab the Spoil Your Family Summer Event button and place it on your sidebar or blog roll. Leave me a link to the location of the button in the comments section of this post. (Remember it's 5 entries, which means 5 comments if you had the button before July 1st!)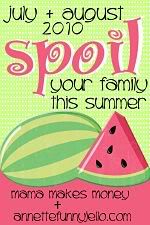 * Leave a comment on a non-giveaway post and leave a comment below telling me where you commented. This can be any post written in the past month and can be done as many times on separate posts as you would like for extra entries. Make sure the comment you leave is legitimate, at least 3 words.
* Blog about this giveaway = 5 Entries (Please leave 5 comments). Link back to this post and Piggy Paint. (Make sure you leave me a link to your blog entry. Blog post must be at least 100 words and NOT be copied and pasted from my blog.)
* Enter the Piggy Paint giveaway at Annette Funnyjello.
* "Like" Mama Makes Money on Facebook.
* "Like" Piggy Paint on Facebook.
* Follow Mama Makes Money on Networked Blogs.
* Add this giveaway to a Mister Linky, Contest Site, Forum, Facebook, Myspace, Stumble, Digg, etc. (unlimited entries).
This giveaway will end on Saturday September 25, 2010 at 11:59 PM CST and is open to residents of the WORLD. I will choose the winner via random.org and announce and e-mail the winner some time on September 26, 2010.
Disclosure: Piggy Paint did NOT provide me with product(s) to review for this post. They are, however, providing the prize to the winner of this giveaway. All opinions expressed about the company are 100% mine.