Welcome to day 21 of the Spoil Your Family Summer Giveaway Event being hosted by Annette from Annette Funnyjello and myself. Today's sponsors are all about cleaning our homes — chemical free. Our first sponsor of the day is Bissell. Be sure to visit Annette's blog for a second chance to win the same prize being offered here.
Bissell is a name all households tend to know…and love. All Bissell cares about is finding ways to make your home a cleaner place. For more than 130 years, their family-owned corporation has developed and created the world's best cleaning tools. From the deep-down microscopic source of your family's wheezing and sniffling to the stains, dirt and animal dander that wreak havoc on your home life.
I was sent the Deluxe Steam Mop to review. Having mostly wood and tile floors in our home, this product is perfect for us. Also, since we have a toddler running around, it's a major plus that the steam mop cleans our floors with scented distilled water. That means we are cleaning our floors with no chemicals. I love that! I used the steam mop right away because my new home desperately needed some deep cleaning in both entry ways. It looked as if the previous never cleaned under the rugs at both entrances and no one ever did a thing about once they moved out.
I am happy to say that my floors now remain sparkling at all times thanks to the Bissell Deluxe Steam Mop. As an added bonus, my home is filled with the scent of Eucalyptus Mint when all is said and done. I love that Bissell gives you the option to purchase more bottles of scented distilled water or you can just purchase the Eucalyptus Mint scented drops and your own distilled water. I go with the latter, such a great money saver!
Giveaway: One winner will receive a Bissell Deluxe Steam Mop from Bissell ($89.99).
Required Entry: Tell me which item you would most like to own from the Bissell website.
For extra entries you can do any or ALL of the following:
* Follow my blog through Google Friend Connect (sidebar).
* Subscribe to my feed via e-mail or RSS.
* Follow @lelandsmama on Twitter.
* Follow @wemeanclean on Twitter.
* Tweet about this giveaway using the retweet button at the top of this post (or if you're feeling creative, use your own tweet). This can be done once daily.
* Grab my button and place it on your sidebar or blog roll. Leave me a link to the location of the button in the comments section of this post.
* Grab the Spoil Your Family Summer Event button and place it on your sidebar or blog roll. Leave me a link to the location of the button in the comments section of this post. (Remember it's 5 entries, which means 5 comments if you had the button before July 1st!)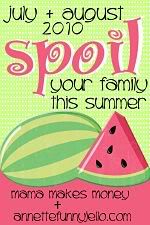 * Leave a comment on a non-giveaway post and leave a comment below telling me where you commented. This can be any post written in the past month and can be done as many times on separate posts as you would like for extra entries. Make sure the comment you leave is legitimate, at least 3 words.
* Blog about this giveaway = 5 Entries (Please leave 5 comments). Link back to this post and Bissell. (Make sure you leave me a link to your blog entry. Blog post must be at least 100 words and NOT be copied and pasted from my blog.)
* Enter the Bissell giveaway at Annette Funnyjello.
* "Like" Mama Makes Money on Facebook.
* "Like" Bissell on Facebook.
* Follow Mama Makes Money on Networked Blogs.
* Add this giveaway to a Mister Linky, Contest Site, Forum, Facebook, Myspace, Stumble, Digg, etc. (unlimited entries).
This giveaway will end on Wednesday August 11, 2010 at 11:59 PM CST and is open to residents of the USA. I will choose the winner via random.org and announce and e-mail the winner some time on August 12, 2010.
Disclosure: Bissell provided me with product(s) to review for this post. They are also providing the prize to the winner of this giveaway. All opinions expressed about the company are 100% mine.